SILMO Paris is an international eyewear trade fair held annually at the Nord Villepinte exhibition center in Paris, France, attracting professionals in the eyewear industry (opticians, optometrists, ophthalmologists, manufacturers, etc.) SILMO Paris is also a platform for presenting technological innovations in eyewear and optics with the aim of providing a technologically responsible vision for the eyewear and optics industry of the future. The next event of SILMO Paris will take place from 29 SEPT – 2 OCT. 2023.
Data by Country
Recently SILMO PARIS website has updated their exhibitors list (the deadline for registration is 2023.8.31) with some more interesting and intuitive data to share with you. As of August 9th, a total of 840 opticians from 42 countries and regions are exhibiting at this optical exhibition, with 213 Chinese companies and 207 French companies, accounting for 50% of the total number of Chinese and French exhibitors, almost covering the entire exhibition ground. Among the Chinese companies, 115 exhibitors came from Wenzhou, Zhejiang Province, which accounted for 54% of the Chinese companies, and the rest of the exhibitors were located in Taizhou, Zhejiang Province, Shenzhen, Guangdong Province, Danyang, Jiangsu Province, Shanghai, and other cities. In today's economic globalization, China has been an indispensable link in the whole eyewear industry chain from the point of view of the number of exhibitors. Europe has good technology, first-class design, and top culture leading the world trend, while China, especially Wenzhou, Zhejiang Province, with its concentrated industry, high production efficiency, and excellent production capacity, is capable of handling the supply chain of the global eyewear industry at present.
In addition to the dominance of Chinese and French exhibitors, there are a number of other countries of interest. Italy has 89 exhibitors, Korea has 39 exhibitors, followed by Germany with 38 exhibitors, Spain with 29 exhibitors, Japan with 25 exhibitors, Hong Kong, China with 22 exhibitors, the Netherlands with 21 exhibitors, and the United States with 19 exhibitors. These are the countries with more exhibitors.
Data by Exhibition Activity Field
From the point of view of the exhibition venue, the head of the exhibition is the glasses category, with a total of 661 exhibitors, which includes glasses exporters, glasses agents, glasses design companies, glasses manufacturers, etc., the main purpose of which is to sell glasses and get orders for signing contracts. The second is the lens provider, with 48 exhibitors. Lenses are a very technical segment, and only companies with scientific research capability can engage in this industry, so the number is relatively small. Like myopia lenses, polarized lenses, and anti-blue light lenses, involving materials and layer technology, this is a high-tech field. In third place is equipment and tools related to dispensing opticians and optometrists, with 27 exhibitors. These are mainly optometric tools for dispensing opticians, which are mainly used in hospitals and optical stores. In fourth place were services for dispensing opticians, with a total of 20 exhibitors, related to the training of dispensing opticians and other aspects. In fifth place was equipment sold to the public, also with 20 exhibitors. The main products sold here are optical products for public use, including 3D eyes, eye massage equipment, eye care products, smart glasses, and other products. In sixth place were contact lens exhibitors, totaling four. Contact lenses are an area not to be ignored, with the pupil design of the lenses already a fashion statement, not just in solving the problem of eyesight.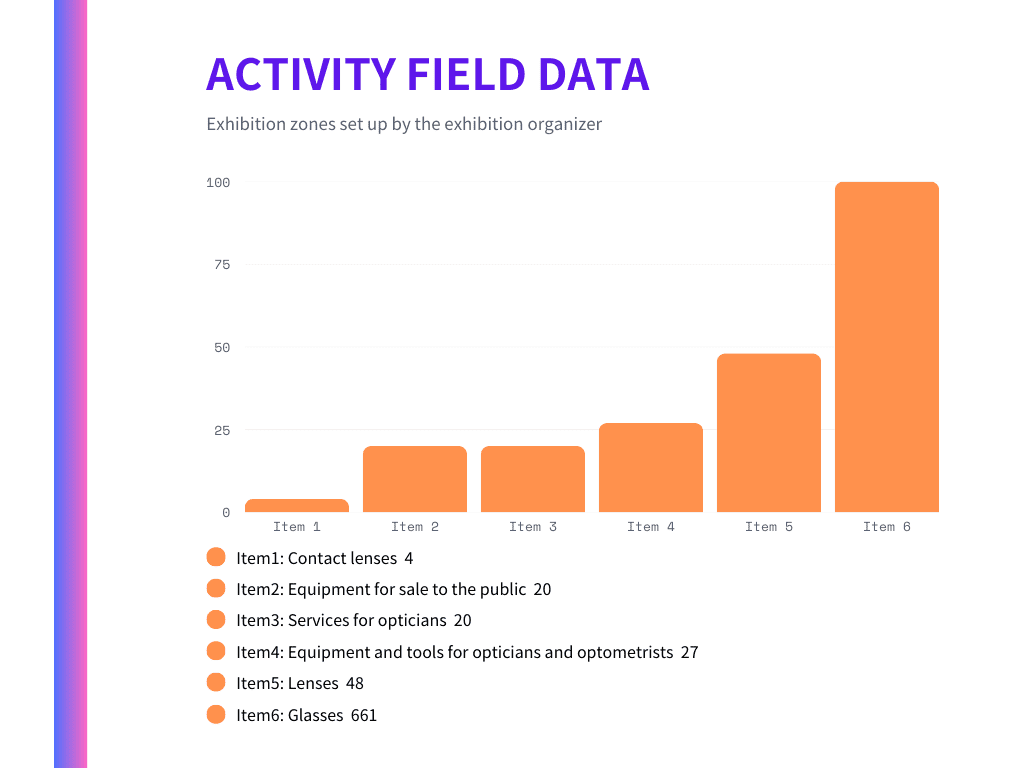 A Scarce Area of Eyewear Worth Watching
Having discussed these broad categories, we have to focus on a very few scarce segments that are indispensable, although there may be only one or two exhibitors.
Smart Glasses. If you are interested in smart glasses, it is best to visit, mainly the latest products and technologies, although smart glasses have been developed for many years, concerned about the standby problem, weight, connection Bluetooth stability, sound quality volume and other issues have been improved and resolved.
AR glasses. Like smart glasses, it is reflected in the iteration of the technology, the smoothness of the system, the tuning of the display color, the degree of imaging fidelity of the simulated environment, the standby time, and the comfort of wearing it, so be sure to experience it for yourself in order to feel the changes.
Blockchain Solution. The eyewear works designed by designers can be put on the blockchain platform and traded with NFT, which is good for copyright protection and the development of the digital collection market. In addition, in the whole product supply chain, the blockchain traceability technology has been developed, which can effectively protect the brand owner's products and is a good means to fight against counterfeits, but how to promote it to be applied in the whole range of the world, this time SILMO PARIS is worth looking forward to.
3D Printed Glasses. 3D printing technology allows for customization of each person's face, printing perfectly fitting frames according to each person's face and preferences, and wearing them with perfect comfort and stability. However, it has some disadvantages, high prices, and a long delivery cycle. If the efficiency of the whole production is improved, which in turn reduces the price, and develops to a range close to the ordinary production, 3D printing will surely be a very fast-growing market. Its development trend is very worthy of attention.
Renewable resources. In fact, most of the common eyeglasses we use are made of two materials, plastic, and metal, which are more environmentally friendly materials, but when recycled, they also produce a small amount of pollution, which may sometimes be unavoidable. There are a few exhibitors at this show who have used biodegradable bio-plastic to make their eyeglass frames, which is a plant-derived material that is 100% environmentally friendly and produces zero pollution. If you want to go for selling such products, it is worth checking out the experience on-site. Also very popular are spectacle frames made from renewable economic forests, and it is very much advocated if the wood can be made to be planted economic forests from the source.
If you would like to find exhibitors in any of these areas, you can click here to reach the SILMO PARIS exhibitor list, search for relevant keywords, and here is the full list of exhibitors, including their websites, press coverage, social media and more.
SILMO PARIS Search Term Data
We see that the current search for SILMO PARIS is not so hot, people are most concerned about the core term "SILMO PARIS", followed by the time and address of the show. As the exhibition time approaches, we believe that the level of interest in SILMO PARIS will explode.
Initiative of Ouyuan Eyewear
As a member of the optical world, Ouyuan Optical has always practiced universal values, passed positive messages to our friends, family, employees and partners, and insisted on treating people and things around us kindly. Bringing light to people and giving them help is what we are happy to do. We notice that even today, at the bottom of the supply chain, there are still some factories with poor production environments, they are sweatshops that squeeze the employees, if we find such factories, we have to boycott them resolutely and never cooperate with them.
Finally, we hope that these simple data analysis can provide you with help, Ouyuan Eyewear look forward to meeting you in Paris, France.