1. CAT EYE POLARIZED CLIP-ON FOR WOMEN

This is a cat eye clip-on polarized lens designed for women's outdoor UV protection. These sunglasses fit most plastic frames and are easy to wear, just clip on, but not for bifocal frames. Made with minimal plastic, the frames are comfortable and lighter for you to wear. This fashionable design style makes you look younger and more hip yet elegant, specifically tailored for round glasses and cat-eye glasses, putting you at the forefront of trends. Compared to traditional clip-on sunglasses, these sunglasses have a lightness and more elegant frame, special material metal clips that are impact and scratch resistant, and have a long service life. Tri acetate cellulose lens, this material brings a clear and comfortable visual experience with a clear and open sense of vision, polarized lenses that reduce glares and reflections, whether you are hiking or driving outdoors. There is a great blockage of the sun's glare. Special technology lens coating, comprehensive UV protection, ultra-light and highly scratch-resistant material with UV400 technology, maximum protection for your eyes from harmful UV rays.
2. FOLDABLE POLARIZED CLIP-ON SUNGLASSES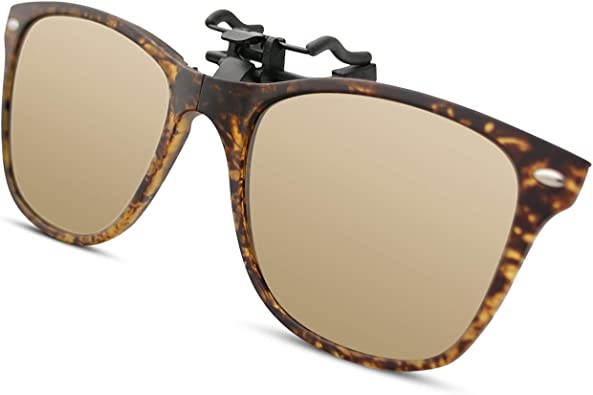 This is a foldable and portable polarized clip-on sunglasses, the current color is retro yellow. The best feature of these sunglasses is the convenient flip-up and foldable design. The spring-loaded clips on the sunglasses are easy to wear and can be switched by simply flipping them up and down, and the mechanical clip-on is tight and sturdy. It will fit securely over your ordinary glasses to ensure it doesn't fall off. The TR90 clip-on material is lightweight and stress-free, the silicone cover on the clip-on protects your glasses from scratches, the hidden padded clip avoids scratching your regular lenses, and the high quality and high strength resin lenses protect your eyes, and repair visual fatigue. Realistic color perception allows you to enjoy the beautiful world landscape outdoors, and the mind and body are more relaxed and happy. Whether you are driving, hiking, fishing, golfing, riding, and other outdoor sports, it is the best clip-on choice for you.
3. BATTLE CLIP-ON POLARIZED NIGHT VISION SUNGLASSES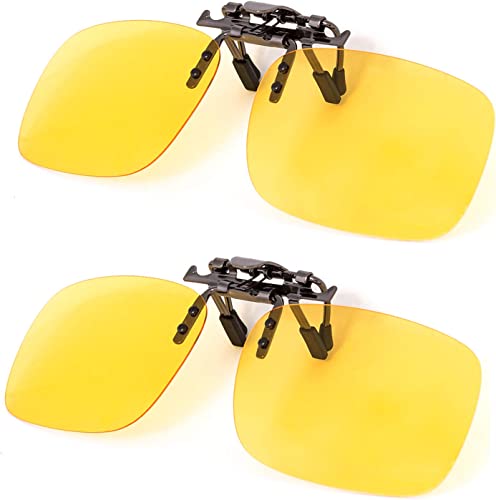 This is a clip-on eyewear with night vision function, it can be easily inserted into or clipped on your prescription glasses, easy to remove at any time, the padding material on the clip is soft and elastic, and it will not scratch the frame of your prescription glasses as well as the lenses. You can flip it up and down to switch between different scenarios, and the clip is made of an alloy material that is not only super light but also scratch resistant. If you are a long-distance freight driver who often drives at night, then these sunglasses are the most suitable. Night driving provides a better night vision effect, reducing the interference of glare from oncoming vehicles, giving you a clear and crisp view, improving the contrast of your night vision, and making night driving safer and more reliable. The rimless aesthetic design and the unique color of night vision give you a warrior-like Mental energy. It has the same UV-blocking function as other clip-on sunglasses. The lenses are scratch-resistant and easy to clean. The main applicable scenarios: driving, fishing, and other outdoor activities.
4. COLD COLORS POLARIZED CLIP-ON SUNGLASSES TR90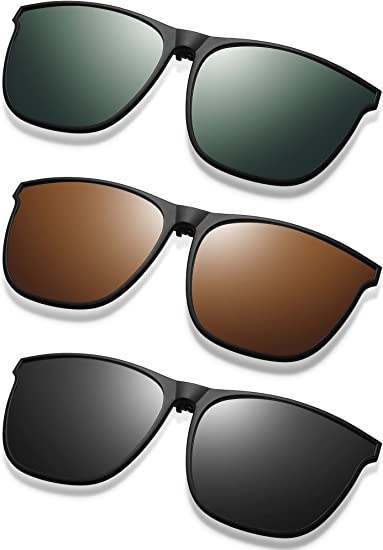 Before we understand these sunglasses, it is necessary to know what TR-90 is: TR-90 is plastic titanium, which is a kind of polymer material with memory, super toughness, low coefficient of friction, impact and wear resistance, etc. If the clip-on sunglasses use this material, it will largely protect our eyes in the case of accidental impact, frame breakage, and other eye injuries, more rare is that it can withstand high temperatures to 350 ° C or 662 ° F in a short period of time. The very large frame allows you not to worry about whether it fits your optical glasses or not, it is perfectly OK and he can cover most of the glasses. Because of its large size, it is also an eyewear that is not picky about the shape of your face. The cool color palette makes you look sophisticated and elite, and ladies will look even more sassy and elegant wearing her. These sunglasses have the function of blocking direct sunlight, you can wear them freely at weddings, driving, shopping, riding, and other environments.
5. RECTANGLE STYLISH POLARIZED CLIP-ON SUNGLASSES

These are rectangular fashion clip-on sunglasses that are unisex and suitable for both men and women. The clip-on design is fashion and compact fit, the only shortcoming is that the lenses are non-flip and the clip is recessed, simply inserted on the glasses for a sturdy fit. It is not suitable for bifocal glasses or rimless glasses. The flat design concept makes the look more elegant, and the clip is made of alloy, impact, and scratch resistant. Whether you are passionately skiing in the cold winter or fishing in the hot summer, it can effectively block UV rays and give you a good view as well as an outdoor experience. Give reasons to buy: simple design and economical.
*The above pictures are from the Internet, only for sharing, if offensive, please contact the author to delete them.